The next stop in our series on European spots is a city that was once the capital of a vast Maritime republic, and has one of the most popular events in Europe! It's time to learn about the best hostels in Venice (and much more!).
Today, Venice is one of Europe's largest tourism destinations while still retaining its rich historical significance.
Its stately architecture has been preserved along with the Venetian customs that have come to define its culture, from its elaborate heritage to its love of gondolas (which are now a common sight on tourist-filled waterways throughout Europe). You'd be hard-pressed to find another city where you can take in so much history and beauty in such a small package.
In this article, we reveal the 3 best hostels in Venice and much more than that. We will give you a friendly guide for enjoying the City of Bridges
Where Is Venice Located in Italy
Venice is located in the northeast of Italy. Located on a lagoon, you will find the city between the Adriatic Sea and the Veneto region. The population is approximately 260 thousand residents. In the region, the largest cities besides Venice are Padua, Treviso, and Verona. All these cities are less than 50 kilometers away.
Venice is located on a group of 117 small islands separated by canals and linked by bridges. The lagoon stretches along 116km or 72 miles of coastline in 400 square kilometers or 150 square miles in area. It has been estimated that there are 150 canals and 409 bridges within the city of Venice. The islands sit on a shallow bed of water that averages 5 meters or 16 feet deep.
Two of the easiest ways to arrive in Venice (if your country does not have flights directly to there) are via one of the airports in Rome (a city that also has its own attractions) or the FRA Airport in Frankfurt, the German financial center that has some of the best hostels in Europe, and from these cities take a low-cost flight.
How Many Days in Venice?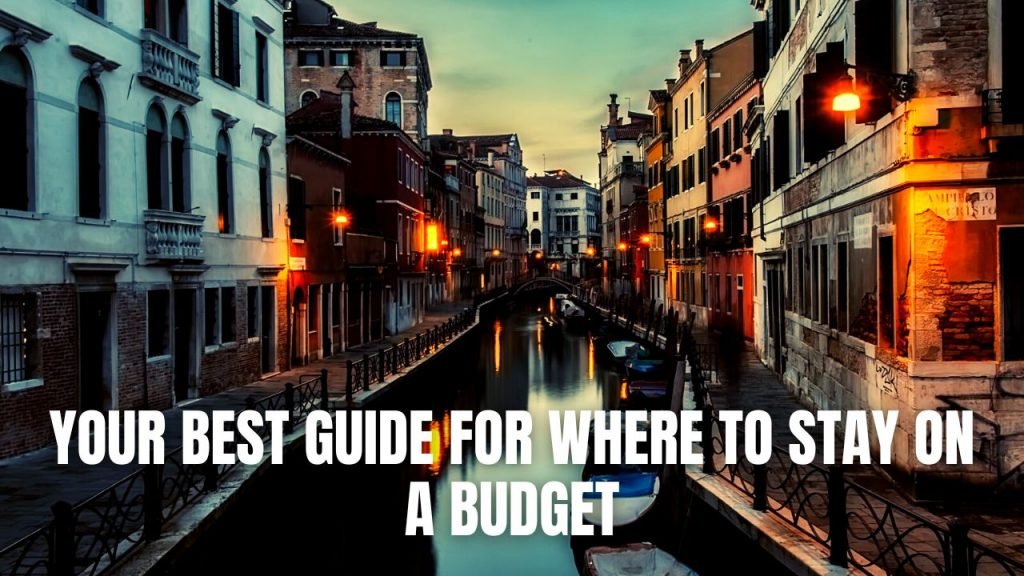 It's true that you can see Venice in a day (in the next section, I tell you an itinerary to be done in exactly this amount of time). The city's center is not very big, but it's really better to reserve 3 days to take advantage of the best Venice has to offer.
Although Venice is not large, you'll want a break from walking now and then. Three days will give you time to rest your feet and relax over an espresso or glass of wine. After all, what fun is being on vacation if you're exhausted?
Three days will allow you time to visit all the major sites, enjoy a few quiet moments along the canals, and perhaps even have time for a day trip to an island or two. You'll also be able to sample some of Venice's unique atmosphere by strolling around the back streets and squares at different times of the day.
What to Visit in Venice in 1 Day
St. Mark's Basilica
St. Mark's Basilica (Basilica di San Marco), unquestionably Venice's most well-known church and one of the most easily recognizable in the world, was once the Doge's private chapel, embellished with Byzantine art treasures carried back by Venetian ships after the fall of Constantinople.
The gold-backed mosaics above the entrances on the façade merely hint at the mosaic craftsmanship inside, where the domes and walls are covered in 4,240 square meters of gold mosaics. These give the cathedral's lofty interior a very Byzantine feel, but you'll also find gems from other periods, including later mosaics by Titian and Tintoretto – names you'll see all over the city.
Palazzo Ducale
Visitors arriving in Venice used to alight beneath the magnificent façade of this magnificent mansion. They couldn't help but be awestruck, both by its magnitude and the elegance with which it was built.
If they were welcomed inside by the Doges, the impression would only grow stronger as they passed through the Porta della Carta, a perfect example of Venetian Gothic at its pinnacle, and ascended the monumental Scala dei Giganti and the gold-vaulted Scala d'Oro to be received in the Sala del Collegio, widely regarded as the palace's most beautiful chamber.
Santa Maria della Salute
Santa Maria della Salute, one of Venice's most photographed churches, has a picturesque location, towering at the extremity of a peninsula across from the Doge's Palace.
The massive Baroque church was erected in gratitude for the 1630 plague's conclusion. Baldassare Longhena, the church's architect, had more than a million timbers driven into the lagoon's bottom before he could create the cathedral since the weak terrain couldn't hold its enormous weight.
Where to Go After Venice?
From Venice, take a few days also to visit Milan, Verona, or Padua, since they are all so close. For other parts of Italy, this article has some ideas of places to visit. Other not-so-far cities that can be included on your route are Bruges in Belgium (also known as Venice of the North); Dubrovnik, a Croatian historical and beach city that once belonged to Venice; or you can take a low-cost flight and visit Budapest, the Hungarian capital.
Where to Stay in Venice for First-Timers
While during winter Venice may not be as expensive as large western European cities like London, it can be expensive during summer and especially during Carnival, when tourists from all over the continent disembark in the city.
If you wish to stay in a hotel, be prepared to spend a higher price on your stay. But here's a little secret: you don't have to. Some of the nicest hostels in Italy may be found in this remarkable city! Below are the 3 best hostels in Venice.
The 3 Best Hostels in Venice
Anda Venice
Awarded as the most popular hostel in Venice in 2020, the second-best extra-large hostel in the world in 2020, and the best new extra-large hostel in the world in 2019. Anda Venice is all about attention to detail when it comes to building modern dormitories, private and social places, as well as a passion for industrial design and a hostel ambiance that fosters endless human interactions.
Female and mixed dormitories (with 6, 7, 9 beds) are available, as well as twins, doubles, and family rooms. All dormitories and private rooms include air conditioning and private bathrooms. All of the dormitories are available for private and exclusive usage.
The icing on the cake is their Alai Life Bar, a fully licensed bar with free weekend activities where foreign visitors will have a rare opportunity to mix. They are in a convenient location: just a 1-minute walk from Venezia Mestre railway station, where they can board one of numerous buses or trains to travel to Venice downtown in 10 minutes!
Generator Venice
Venice is known for its beauty, and the Generator is the ideal spot to stay if you want to take in the sights. You'll be able to see Venice in all its grandeur from across the river (don't worry, the main island is only minutes distant). The staff is wonderful, always willing to go above and above if you need anything, and the décor make it easy to forget you're on a budget.
Generator Venice is a design hotel-hostel on the island of Giudecca, just a short walk from Piazza San Marco. Guests have the option of staying in communal dormitories or private rooms, so there is something for everyone. Generator is a fun and economical option in Venice, with 24-hour reception, free internet, a cafe, bar, and views of the Grand Canal.
Ostello S. Fosca – CPU Venice Hostels
Ostello S Fosca is in a fantastic position, just 15 minutes walk from Piazza San Marco, making it simple to get around on foot. It is reasonably priced, and there is a kitchen where you may avoid the exorbitant pricing of Venice restaurants, as well as a lovely shared outside area where movies are shown and people congregate. Because there is a nightly curfew of 12.30 a.m., this location is great for visitors looking for a peaceful night's sleep after a day of touring.
---
Enjoyed this article about the best hostels in Venice? Take a look at these similar pieces we wrote for you:
How Many Days to Spend in Brussels (and How to Make the BEST of Them).
First, subscribe (for free) to receive my articles directly in your inbox and receive as a special gift the digital book 20 Essential Hacks for Saving Money While Travelling.
Second, if you liked this article, please consider supporting me and other writers by becoming a Medium member. By using this link, you will directly support me with a piece of your fee; there will be no additional cost to you. Thank you a million times if you do!
Levi Borba is the founder of the Expatriate Consultancy, creator of the channel The Expat, and best-selling author. Some of the links in the article may be affiliate links, which means the author receives a commission on any purchases made by readers.