After Melbourne, it is time for us to reveal the best places to stay in another metropolis on the other side of the world! Discover the best hostels in Bangkok, Thailand's capital!
Bangkok is an excellent destination for backpackers. It's inexpensive, it's simple to get around (one of the best ways to reach there from the US or Europe is flying Emirates, with a stop in Dubai), and many people speak English. It also has a rich culture and history, making it one of Asia's most popular tourist destinations.
Bangkok has many tourist attractions, but one of the main reasons people visit Bangkok is for the amazing food! Several people have said that the food in Bangkok (and nearly everywhere else in Thailand) is some of the best they've ever had.
Tom Yum soup is my personal favorite 🙂
The weather is, most of the time, wonderful for holidays. If you are American, imagine Thailand's climate as something similar to Puerto Rico, but without speaking Spanish 🙂
Another reason people visit Bangkok is that it is so reasonably priced! You can find almost anything you want for a low price, including hotels and flights. If you're looking for a cheap place to stay but still want a nice room, consider staying at one of Bangkok's hostels. They are really inexpensive in comparison to their European counterparts, but they still have all of the amenities you require, such as WiFi and a kitchen.
Bangkok is also easily accessible, with multiple flights departing from major western airports such as Frankfurt to the Thai capital.
If you want to visit the Thai capital as part of your travels around South East Asia, then this article is for you. We will be looking at things like where to find the Elephants, what to wear when visiting temples, and the best hostels in Bangkok.
How Many Days Do You Need in Bangkok
To visit Bangkok calmly, take at least four days. This is due to the city's many attractions, which are difficult to organize in a single day.
The most important thing is to consider what you want to do in Bangkok rather than how many days you need. If all you want to do is visit a local market and the grand palace, two days will be enough. However, if you want to visit museums and historical sites, you should extend your stay by at least four days.
Where Is the Best Place to Stay in Bangkok
Thailand, a popular destination for backpackers and solo travellers, boasts an impressive array of hostels. These accommodations offer excellent value for money, providing not just a place to sleep, but a unique vibe and a chance to meet other travellers.
In 2023, the hostel scene in Thailand continues to thrive, with Bangkok hostels standing out as some of the best in Southeast Asia. From party hostels to boutique hostels, there's something for every type of traveller.
There are many great districts in Bangkok, but if you are looking for a place to stay in the city, this is what you should consider:
Sukhumvit
Sukhumvit district has some of the best hotels in Bangkok. It has everything from budget-friendly hostels to luxury hotels that offer high-end services. There are plenty of restaurants and bars in this area that make it an ideal place for young tourists who want to have fun and enjoy themselves.
Khao San Road
o San Road is where all the backpackers go. It's loud, busy and full of street food stalls selling pad thai noodles (something to learn during a Thai cooking lesson!), som tum papaya salad, and fried chicken wings. It's also home to lots of cheap hostels, bars, and cafes serving up local beers like Chang and Singha.
Siam Square
Siam Square is close to the river but further away from central Bangkok. It's home to most of Bangkok's skyscrapers and office buildings as well as some great shopping malls like MBK on Patpong Soi 1.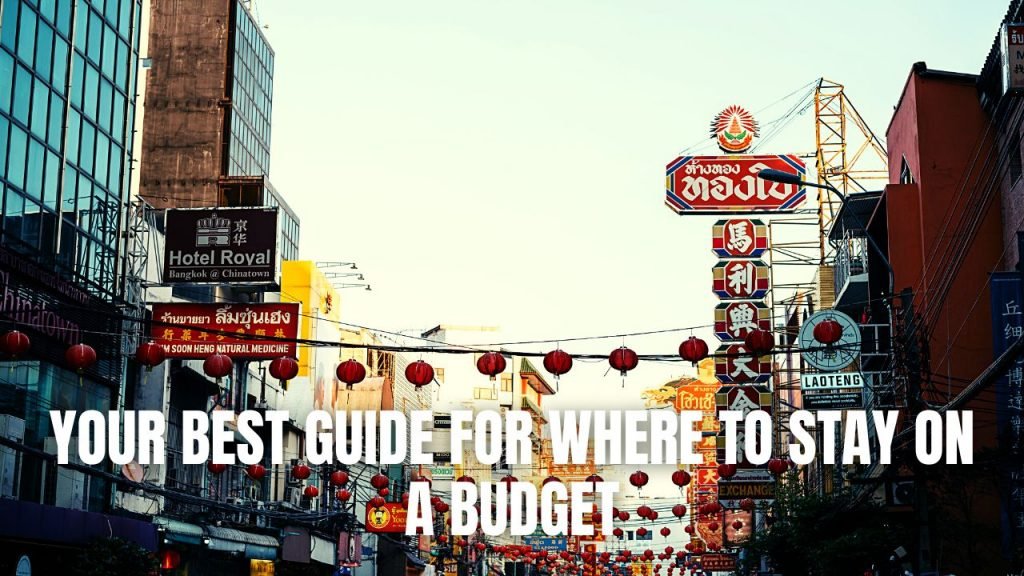 The Best Hostels in Bangkok
The Yard Hostel Bangkok
The Yard Hostel is an eco-hostel in Ari, Bangkok's central district. They have visitors from all over the world who come to relax and plan their excursions in a quiet setting. One thing that distinguishes their hostel from others is that they strive to minimize their environmental effect as much as possible.
The chambers, which are essentially old shipping containers, were constructed using recyclable materials. They also used recycled paper to insulate the rooms, reducing the amount of energy used by the air conditioner. They also don't sell throwaway water bottles and urge visitors to replenish their own.
The name represents the hostel's objectives. In English, a "yard" is an open space close to a house. In Thai, however, Yard means family. As a result, they hope to create a warm, welcoming environment that feels like a family. They seek to bring people together to exchange experiences, build friendships, and learn about sustainable living practices.
Here Hostel
The second in our list of the best hostels in Bangkok is located relatively close to the Grand Palace, Wat Pho, and other major sights, particularly the Metal Castle.
Here Hostel is located in Bangkok's old town, about a 5-10 minutes walk from the world-famous Khao San Road, also known as the "Backpacker Paradise."
They are here for individuals who appreciate the Bangkok nighttime strolling street but want to be far enough away to unwind and chill at the same time. Their position is also quite close to Wat Pho, and other major attractions, particularly some amazing pad Thai restaurants only a few steps away.
Back Home Backpackers
Back Home Backpackers' bunk beds all have built-in safety locks. Air-conditioned rooms with thick, comfortable, HUGE beds and hot baths are also available in this place, the third in our list of the best hostels in Bangkok. All bunks include power points for private usage at your bedside. On arrival, every guest receives a fresh towel and a smile 🙂
If you're feeling creative, they have a groovy small bar and common room downstairs with a range of calm rhythms, fantastic art, sofas, games, guitars, hula hoops, and a collection of art supplies. Come to one of their trivia nights, movie nights, or cocktail parties!
Their additional services include travel advice, on-call travel agents, laundry, bar crawls, event and festival updates, and daily information gatherings for individuals new to Bangkok / South East Asia.
Everyday Bangkok Hostel: A Modern Oasis in the Heart of the City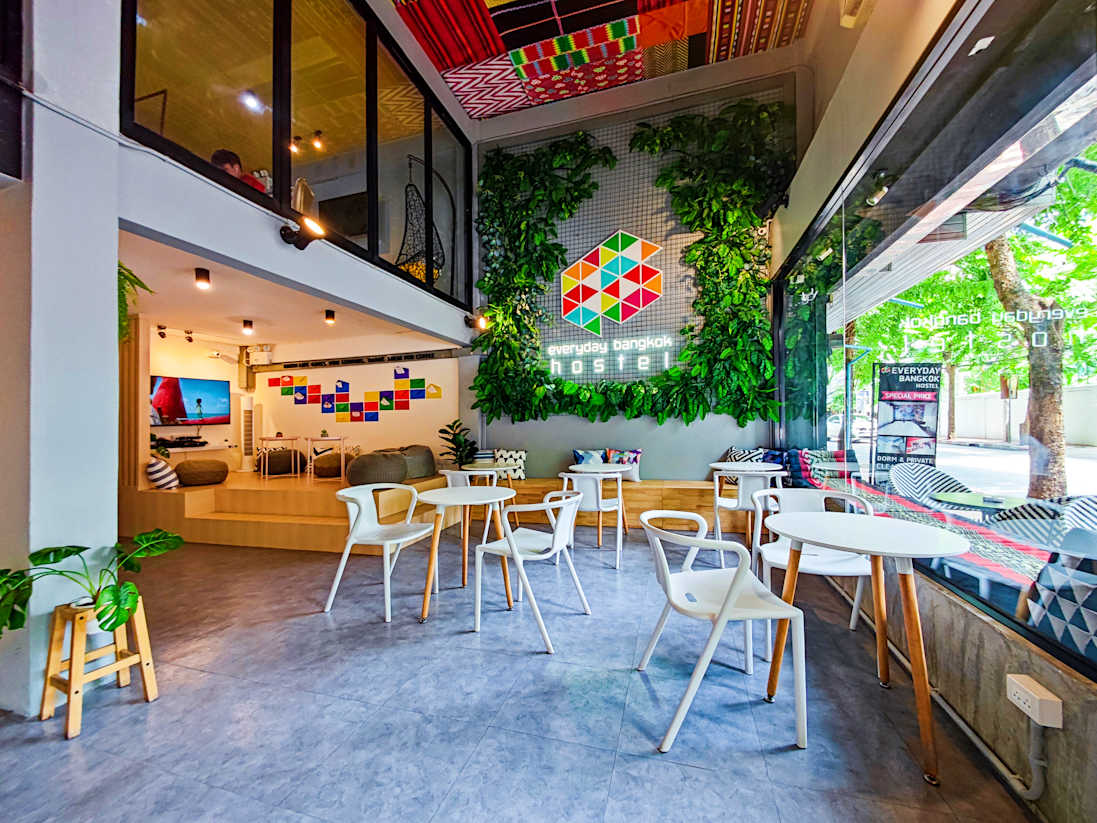 Located within walking distance of the infamous Khao San Road, Everyday Bangkok Hostel offers a modern and comfortable stay.
The hostel offers both dorm beds and private rooms, making it a great choice for all types of travellers. With free breakfast, free wifi, and a convenient location, it's no wonder this hostel has excellent guest reviews. The hostel also boasts a lively atmosphere, with a common area perfect for meeting other travellers and making new friends. The staff are known for their friendly and helpful service, ensuring that guests have a memorable stay.
Mad Monkey Hostel: The Ultimate Party Destination
If you're looking for the best party hostel in Bangkok, maybe time to check Mad Monkey Hostel.
Known for its lively atmosphere, pool parties, and on-site bar, this hostel is a favorite among party-loving backpackers. The hostel also offers private double rooms for those who want a bit of privacy after a night of partying. In addition to its party scene, Mad Monkey Hostel also offers a range of amenities including free wifi, a restaurant serving delicious food, and a convenient location close to Bangkok's main attractions.
Bed Station Hostel: A Backpacker's Dream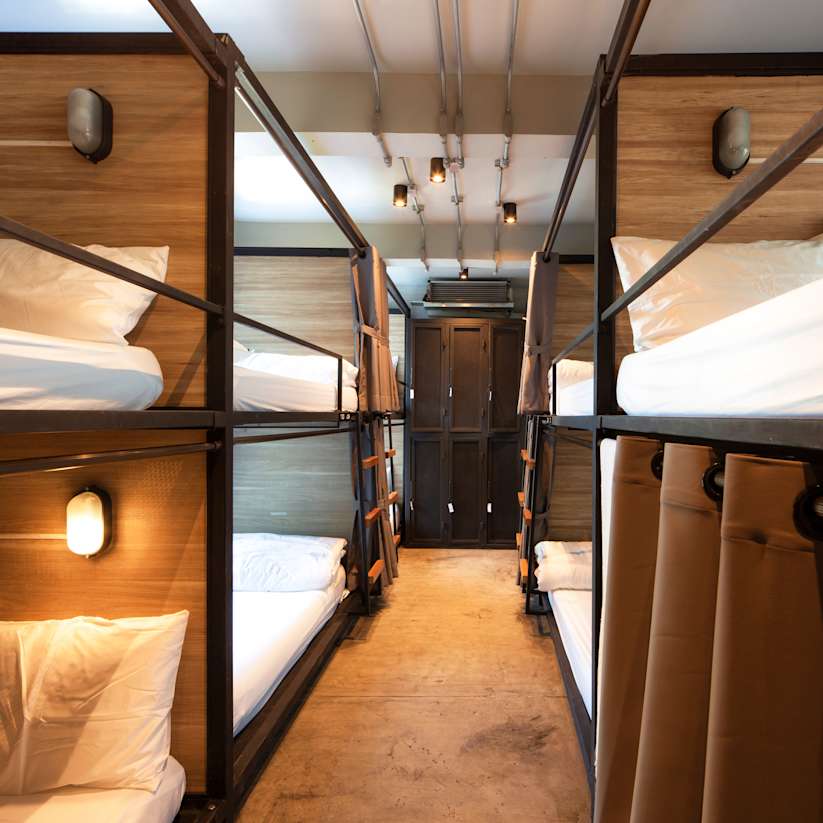 Bed Station Hostel is a backpacker hostel that offers a perfect blend of comfort and social interaction. With its modern design, comfy beds, and free breakfast, it's a great place to rest after a busy day exploring Bangkok. The hostel is centrally located, making it a super convenient place to stay. Additionally, the hostel offers a range of facilities including free wifi, a common area for socializing, and a friendly staff ready to assist with any needs.
Conclusion: Choosing the Perfect Hostel in Thailand
Choosing the perfect hostel in Thailand depends on your preferences and travel style. Whether you're a solo traveller seeking a quiet place to rest, a party animal looking for the best nightlife, or a digital nomad in need of a convenient location, Bangkok's hostels have something to offer.
From the modern Everyday Bangkok Hostel to the party-centric Mad Monkey Hostel to the backpacker-friendly Bed Station Hostel, there's a hostel for every type of traveler. So pack your bags and get ready for an unforgettable adventure in the Land of Smiles!
Where to See Elephants in Bangkok
Elephants may be seen at a variety of locations in Bangkok. Some are more touristic than others, but if you have the time, they're worth seeing.
The most famous is the Royal Elephant Kraal (จักรวาลพระ) in Dusit Zoo (โดสต์โซเฟ่), which is part of the Royal Palace Park. The kraal was built to house the king's white elephants, but it now houses several other species of elephants, including a few Asian ones. They are used in ceremonies, like the funeral of King Bhumibol Adulyadej.
The Thai Elephant Conservation Center is located just outside Bangkok in Lampang province, which was once home to several thousand wild elephants. It's now home to around 60 domesticated elephants and provides employment for some locals while also protecting their natural habitat. Visitors can enjoy an elephant ride or watch them being bathed by their mahouts (elephant trainers).
What to Wear in Bangkok Temples
The Temple of the Emerald Buddha is Bangkok's (and Thailand's) most sacred temple (Wat Phra Kaew). As a result, the dress requirement for visiting this temple and the Grand Palace in which it is housed is quite rigorous. But don't worry, there are monks at the gate who will discreetly tell you if you're not dressed properly and give options.
T-shirts with a round collar or buttoned at the neck are permitted. You must not wear sleeveless T-shirts (or tank tops), and you should never expose your abdomen or chest.
Shirts with full-length or half-length sleeves are recommended for males (but never with the sleeves rolled up). The rules are the same for women. Crop-tops are not permitted, and tops must cover your shoulders and waist. A scarf or shawl worn over a sleeveless shirt is sometimes permissible, although this is not authorized in Wat Phra Kaew. Any cleavage is considered very disrespectful and is therefore strictly prohibited.
Shorts are OK, but they must fall below the knee. Sandals are permitted, but they must have a strap that wraps over the heel; flip-flops are not permitted, and sandals must always be worn with socks.
Short shorts or skirts are not permitted, nor are tight-fitting leggings or yoga trousers. Always keep your thighs covered.
How Long Flight From Bangkok to Phuket
The average flight time from Bangkok to Phuket is 1 hour and 25 minutes. The quickest direct flight takes an average of 1 hour and 15 minutes, while other direct flights may take up to 1 hour and 30 minutes. The total distance covered by flights between the two cities is 415 miles (or 668 kilometers).
The closest airport to Bangkok is Suvarnabhumi International Airport, which is about 19 miles (30.5 kilometers) away. The closest airport to Phuket is Phuket International Airport, which is about 20 miles (32.7 kilometers) away.
---
Enjoyed this article about the best hostels in Bangkok? Take a look at these similar pieces we wrote for you:
First, subscribe (for free) to receive my articles directly in your inbox and receive as a special gift the digital book 20 Essential Hacks for Saving Money While Travelling.
Second, if you liked this article, please consider supporting me and other writers by becoming a Medium member. By using this link, you will directly support me with a piece of your fee; there will be no additional cost to you. Thank you a million times if you do!
Levi Borba is the founder of the Expatriate Consultancy, creator of the channel Small Business Hacks and the channel The Expat, and a best-selling author. Some of the links in the article may be affiliate links, which means the author receives a commission on any purchases made by readers.