Are you planning a trip to Frankfurt, Germany, but want to stay near the FRA airport because you only have one or two days? Do you want to know what is the best Frankfurt hostel near airport FRA? I specify FRA since Frankfurt has more than one airport, the other being Hahn Airport.
Frankfurt FRA Airport is Germany's busiest airport and Europe's sixth busiest airport, and flights depart from there to almost every major tourist city, from New York to Bangkok. The city itself is a sprawling metropolis. Choosing a place to stay after you've just landed or before you catch a flight can be difficult.
Frankfurt, like most major cities in Germany, saw its fair share of fighting during WWII. A large portion of the city was destroyed and later rebuilt. The story of this modern-day financial capital is one of recovery. The city is an economic powerhouse in Europe, having also a world-famous Christmas market, a restored old town, lovely parks, and an impressive cathedral.
Because Frankfurt is a major western European city, a visit may not be the cheapest. That being said, visiting here does not have to be prohibitively expensive, and I will show you how to plan a short but memorable stay.
This guide provides practical information on the best backpacker hostel near Frankfurt FRA airport (we also have a complete guide for Amsterdam in case you are landing there).
But also don't miss the other tips we have!
Let's get started…
The Best Hostel near Frankfurt Airport (The Top 2 in 2022)
We ended in Franfkurt after Basel and Luzerne, in Switzerland, a wonderful place to travel by train.
We looked for a place close to the airport since from there we would take our flight. Here are the best ones we could find.
5 Elements Hostel
If you're traveling alone, five Elements Hostel Frankfurt Airport is an excellent choice.
Looking at the map, one would not say that this hostel is geographically close to the airport,
BUT…
If you consider the great public transport connections, it is possible to go from the airport to the hostel (and vice-versa) in only 20 minutes! All that is thanks to the state-of-art system of the S-Bahn.
So, the hostel has easy access to the airport but is still close enough to walk into the city and within walking distance of the main train station, Frankfurt Hauptbahnhof. It is 1.1 km from the Cathedral of St. Bartholomaus. For a more leisurely stay, you can visit the nearby Stadel Museum, which is about 880 m away.
The hostel offers free WiFi and daily breakfast. There is also a bar and reception. Located in the heart of Frankfurt, this property offers a convenient location to many major attractions. There are also a number of rooms available, including private rooms and double rooms. All rooms have private bathrooms. Breakfast is served from 7:30 AM to noon. The price is reasonable for the area. You can make use of the free WiFi in the common area and make use of the hostel's kitchen.
You can book a place at 5 Elements Hostel here.
MEININGER Hostel Frankfurt Airport
The MEININGER Hostel Frankfurt Airport is located in front of the FRA airport. Like, literally in front of it.
Some people call it a hotel, others a hostel. The truth is that Meininger, like many large hostels nowadays, adopted a hybrid model and is both at the same time.
Its facilities include free Wi-Fi, a 24-hour front desk, and an airport shuttle service. Other amenities include a fitness center, laundry facilities, and free Wi-Fi throughout the property. Some of its contemporary rooms are comfortable and stylish, featuring flat-screen televisions. It is a good choice for travelers who plan to visit the city frequently.
Located 7.5 km from the Frankfurt (Main) Hauptbahnhof, MEININGER Hotel Frankfurt Airport offers a convenient location near airport attractions. The hotel is within easy reach of the city center, including the Goethe House and St. Paul's Church. The hotel also offers free WiFi and parking spaces and offers an extensive breakfast buffet. Its proximity to the airport also makes it ideal for families and those who need to get to work quickly.
Now that you know the name of the two best hostels near frankfurt airport (FRA airport), time to answer some other common questions backpackers have.
You can book a place at MEININGER Hostel Frankfurt Airport here.
Do They Speak English in Frankfurt?
Do they speak English in Frankfurt? This is a common query when visiting this major financial hub. A large US military base is also located in the city. Fortunately, English is widely spoken, and there are numerous eating and drinking establishments. Whether you want to brush up on your German or simply learn the local tongue, there are plenty of opportunities in this international financial center.
Many people may struggle with the language barrier, especially when traveling to a country where foreign languages are widely spoken. Despite a few exceptions, there is no reason to be afraid. In fact, almost 60% of Germans speak English. Since Frankfurt is a large financial center, the numbers there are likely much higher.
I visited Frankfurt, I partied there and even had a haircut. All that without speaking a single word of German, except danke.
How to get around in Frankfurt
With a very large airport, Frankfurt is one of Europe's most popular stopovers. If you're coming from out of town, you can take a train from the city center to the airport, and then take the U-Bahn or S-Bahn to the city center. While you can also opt for taxis, these are expensive and are not recommended if you're traveling alone.
Public transportation in Frankfurt is reliable and efficient. Tickets can be purchased in any of the city's train stations, and they come time-stamped. Be aware that there are plainclothes inspectors patrolling the system and will issue hefty fines if you're caught using an invalid ticket. The Rhein-Main Transport Association is responsible for operating the system.
If you're going on a day trip to Frankfurt, consider spending a day in Heidelberg. Just 88 km away, this city offers many beautiful attractions. Heidelberg Castle is one of the most popular attractions in the city, but don't miss out on the old town. You'll also want to check out the Philosophers' Walk and Carl Theodor Old Bridge, which connect the two sides of the city.
If you're wondering how to get around Frankfurt on a budget, you can also opt for hop-on hop-off bus service. This 24-hour service crisscrosses the city and its suburbs. Tickets are available for purchase onboard. In addition to the S-Bahn and U-Bahn, there are several bus services. You can purchase a combined ticket, which will save you money on travel while experiencing the city.
One day is enough to explore the core of the city. Although Frankfurt is more of a commercial city, it offers many hidden gems. You don't even need a car if you're traveling by plane.
From Frankfurt, take a few days also to visit Brussels, since it is close, as well as Bruges, the city known as Venice of the North. Other not-so-far cities that can be included on your route are Venice, in Italy, a place that does not need introductions; or you can take a low-cost flight and visit Budapest, the Hungarian capital, or Rome, the eternal city.
Does Frankfurt Airport have lockers?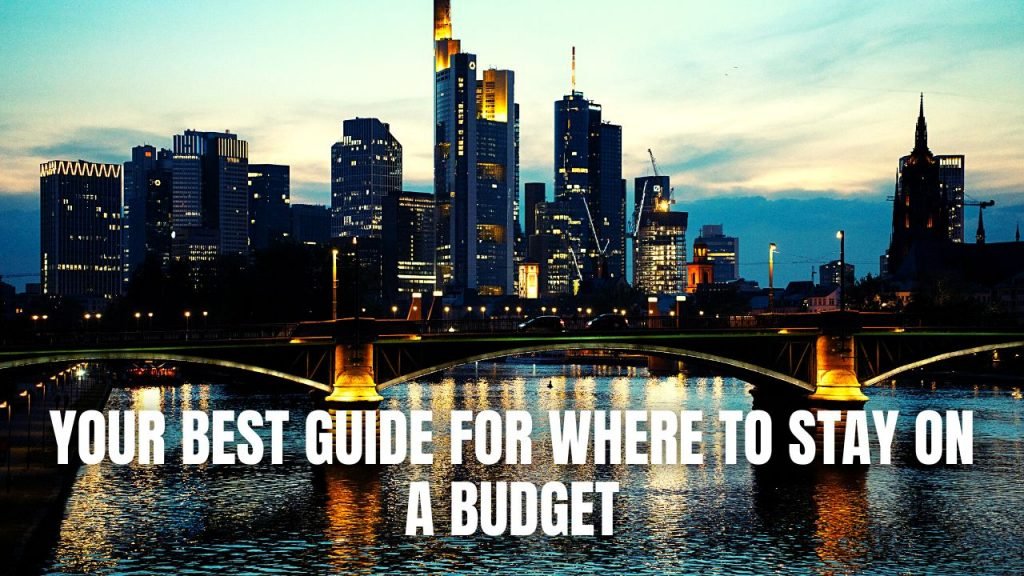 Yes, Frankfurt FRA airport does have lockers. If necessary, you can temporarily store any type of item at one of FRA Airport's baggage storage facilities, and there is a fee for this service.
The following are the luggage storage locations:
Terminal 1, Level 2 (Departures), between Concourses B and C, open daily from 6 a.m. to 10 p.m., phone +49 69 690 73277
Terminal 1, Concourse B, Level 1 (Arrivals), open 24 hours a day, 7 days a week, phone +49 69 690 70786
Terminal 2, Concourse D, Level 2 (Arrivals), 6 a.m. to 10 p.m. daily, phone +49 69 690 72860
Remember to pick up your belongings on time. Items that are not claimed within 125 days are sold at auction.
How to go to Rhine Valley from Frankfurt?
There are regular trains to Bingen am Rhein and Bacharach in the Rhine Valley. Both are just under two hours away by train. If you want to explore more than one village, consider taking a tour (there are some great options, really). Getting there is easy, too. Just make sure you plan to allow enough time for travel.
Renting a car is a great way to get around (Here you can find multiple car rentals in the Frankfurt area). Most cities in the area have car rental agencies on site. Modern roads in Germany and Switzerland are a quick and safe way to get from one point to another.
Visit the walled town of Budingen, which lies close to Frankfurt. You can explore its old town at your own pace, or take a guided tour. You can also travel by boat along the Rhine River and explore the scenic hillsides.
How far is Berlin from Frankfurt?
How far is Berlin from Frankfurt? Short answer: 546 kilometers. But we know that this info alone does not help much, so we will separate by means of transportation.
From Berlin to Frankfurt by car:
Drive time: 339 miles (546 km) nonstop
Time spent driving: 5 hours and 31 minutes, but realistically, you'll want to add a buffer for rest stops, gas, and food stops along the trip.
From Berlin to Frankfurt by bus (or Flixtrain):
Flixbus is a German coach business that has become synonymous with low-cost travel throughout Europe. Inside Germany, travelers can take advantage of Flixtrain, which is well-known for its super-affordable—albeit sluggish—buses that traverse the continent. These low-cost trains are faster than buses and much less expensive than traveling on the German national rail system, Deutsche Bahn. Here you can research multiple buses or train operators in Germany. Flixtrain tickets start at roughly 10 euros for a one-way trip.
From Berlin to Frankfurt by DB trains:
DB trains run up to four trains every hour throughout the day, with the majority of them departing from Frankfurt Hbf and arriving in Berlin Hbf. I use this website to research train ticket prices.
After Frankfurt, our next stop will be in Estonia, a country with many things to do.
---
Check also some of the best places to visit in Poland.
We also wrote posts about hostels near airports in different locations, take a look:
First, subscribe (for free) to receive my articles directly in your inbox and receive as a special gift the digital book 20 Essential Hacks for Saving Money While Travelling.
Second, if you liked this article, please consider supporting me and other writers by becoming a Medium member. By using this link, you will directly support me with a piece of your fee; there will be no additional cost to you. Thank you a million times if you do!
Levi Borba is the founder of the Expatriate Consultancy, creator of the channel Small Business Hacks and the channel The Expat, and a best-selling author. Some of the links in the article may be affiliate links, which means the author receives a commission on any purchases made by readers.