The next stop in our series on European spots is a city that is also known as Spain's cultural capital, and is famous for having (arguably) the most successful football team ever! It's time to learn about the best hostels in Madrid (and much more!).
The Spanish capital is an intriguing place. While it still receives over 5 million tourists annually, it is still far less visited than cities like Barcelona (7 million visitors per year) or Rome (10 million annual visitors). That means you'll be able to enjoy its rich history, art, culture, and food without fighting through crowds. It's also a city that values its traditions, so you'll find old-fashioned flamenco bars alongside the latest Michelin-starred restaurants and chic shops.
Madrid is considered one of the most beautiful cities in Europe. It's full of history and it has a lot of cultural activities to offer.
The architecture, for example, is stunning. The Royal Palace is magnificent and you can spend hours exploring it. If you're interested in art, you should visit The Prado Museum where you can see some of the greatest artists ever like Velasquez, Goya, and El Greco. If you're lucky enough to be in Madrid when there's a football (or soccer, if you are American) match going on, you can go see a game at The Santiago Bernabeu Stadium, home of the legendary Real Madrid!
There is a lot to see there, and in this article, we reveal the 3 best hostels in Madrid and much more than that. We will give you a friendly guide to enjoy the Spanish capital!
Best Time to Visit Madrid
There are several considerations when thinking about when to visit Madrid. The weather can be a significant factor when choosing a time of the year to visit the Spanish capital. For example, Madrid has hot summers, with temperatures often exceeding 30°C (86°F). If you are not accustomed to such high temperatures and tend to find heat exhausting, then you may want to avoid the months between June and September.
In winter, on the other hand, temperatures seldom drop below 0°C (32°F), but if you plan on spending some time outdoors it might still be too cool for your taste. That said, winter is one of the best times to travel around Madrid if you do not like crowds. It is also known as "low season" meaning that hotel prices will be low and discounts on tourist attractions will be available.
Two of the easiest ways to arrive in Madrid (if your country does not have flights directly to there) are via AMS Airport in Amsterdam (a city that also has its own attractions) or the FRA Airport in Frankfurt, the German financial center that has some of the best hostels in Europe, and from these cities take a low-cost flight.
How Many Days in Madrid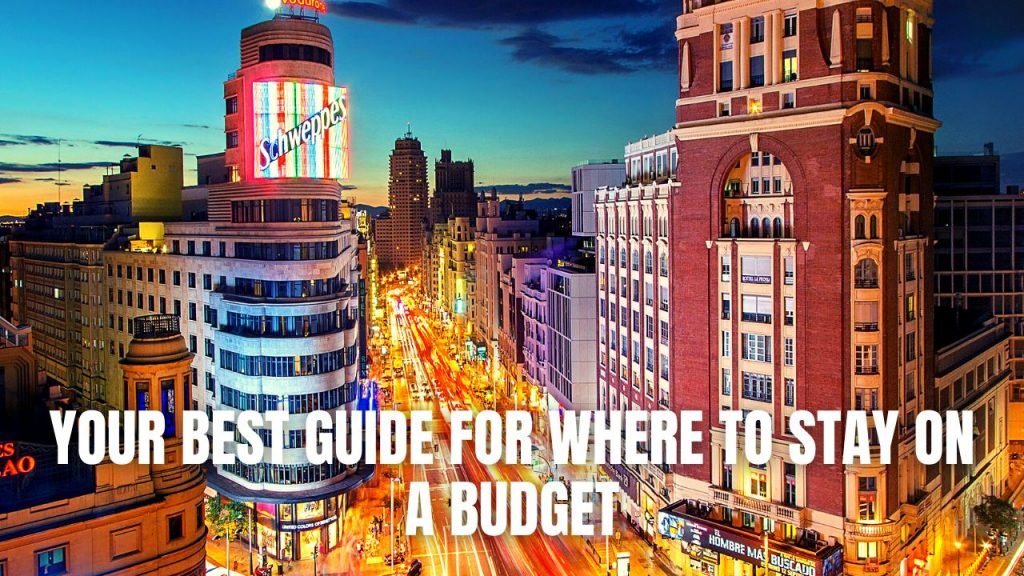 Madrid is a city full of attractions. It's almost impossible to visit all the city's sights in one day, but you can't stay there for long either.
If you are planning to visit and wonder how many days you need to stay to see the major attractions, we suggest you plan on staying at least 3 days. 3 days will give you enough time to enjoy your trip and not be stressed with a tight schedule. It's better to see fewer things but with calm rather than trying to cram everything into a short amount of time. We also recommend trying a free walking tour, since they are often guided by students that have good knowledge about the city and only ask for a tip at the end.
From Madrid, some not-so-far cities that can be included on your route are Bruges in Belgium, also known as Venice of the North; Lisbon, the capital of neighboring Portugal; and Barcelona, a city with some rivalry with Madrid but with a completely different atmosphere.
Below I give you the attractions that you will be able to see in 3 days at a relaxed pace.
What to Do in Madrid for 3 Days
The Prado Museum
The Prado Museum is one of Madrid's most renowned tourist attractions. One of the world's best art collections is housed in the 18th-century edifice constructed by architect Juan de Villanueva. The iconic museum has been made simpler to tour thanks to a 2007 expansion.
It's hard to view everything in a single visit because there are over 7,000 works of art representing culture and history from the 12th century to the early 19th century. The museum's collection of Spanish artists, which includes Goya, El Greco, da Ribera, and Velázquez, is unquestionably the finest collection of Spanish paintings in the world.
The Plaza Mayor
Madrid's magnificent central square is located in the city's historic district. The lively square, steeped in history, is the ideal site to start your journey through one of Madrid's most lovely districts.
While you're there, get a bite to eat or a cup of coffee on one of the city's sunny rooftop terraces pick up a gift from one of the city's historic stores, watch street musicians and artists perform, and take in the city's rich history. The area also hosts events like the Easter drum march, outdoor concerts, and the city's Christmas market in December, so keep an eye on the calendar when you're there.
El Palacio Real
The Palacio Real's most imposing characteristic is its immense size, with around 2,500 ornately furnished rooms. Beginning with Carlos III, the palace was built in 1764 and functioned as the royal home. In the early 1900s, Alfonso XIII and Victoria Eugenie were the last royals to live there.
Despite the fact that the palace is still used for formal occasions, 50 of the structure's beautiful rooms are available to the public, including an armory, pharmacy, and the palace's opulent throne chamber. There is an interesting piece of art in the dining room depicting Christopher Columbus presenting gifts from the New World to King Ferdinand and Queen Isabella.
El Retiro
Its beginnings may be traced back to the time of Philip IV when the Count-Duke of Olivares erected the Buen Retiro Palace. During the reign of Charles III, the Astronomical Observatory and the Royal Porcelain Factory of Buen Retiro were erected. The pier on the pond and the Casa de Fieras zoo were erected during Ferdinand VII's reign.
Among the most notable features of the park are the great pond with the Alfonso XII monument, the Casa de Velázquez and the Crystal Palace, the Rosaleda rose garden, and the Parterre, which contains one of Madrid's oldest trees, are among the park's most notable features. It was designated a Historic-Artistic Garden in 1935.
Mercado de San Miguel
The Mercado de San Miguel, located within walking distance of the Plaza Mayor, is a famous shopping destination for local goods and specialties. Glass walls display commodities ranging from salted fish and oysters to fresh pasta and desserts, thanks to the sophisticated cast-iron construction.
Because the market is open until 2 a.m. on weekends, it has become a favorite hangout for travelers and residents who want to enjoy beverages and tapas, or small plates of food. Concerts, culinary workshops, and private parties are all held on the premises.
Estadio Santiago Bernabéu
Real Madrid Football Club and the Santiago Bernabéu Stadium are inextricably linked. The UEFA Champions League, UEFA Europa League, Spain's Premier League, and the 1982 FIFA World Cup have all been held within the confines of Santiago Bernabéu (the final match was played here on 11 July 1982, between Italy and West Germany).
On October 27th, 1944, construction began on a barren plot of dirt. Real Madrid changed the name of the stadium to its current one on January 4th, 1955, eight years later, in honor of Santiago Bernabéu, the club's president at the time.
Almudena Cathedral
The Almudena Cathedral has a fascinating past. For the most part, for all the wrong reasons. The idea of building a cathedral in Madrid dates back to the 1500s. However, the discovery and development of the "new world" took precedence, and the building of the cathedral began in 1879.
The magnificent cathedral was not finished until 1993, owing to a variety of factors, most of which were related to the civil war. The interior of Almudena Cathedral is richly decorated, with two lofty bell towers. It also houses the country's largest crypt, which is the final resting place for some royals, Cardinals, and Francisco de Cubas, the architect of the cathedral.
After visiting all that, you may continue your journey by heading, for example, to Belgium. If this is the case, you should read our Bruges city guide.
Where to Stay in Madrid
While Madrid is not as expensive as London, it is significantly more expensive than some European capitals such as Budapest.
If you wish to stay in a hotel, be prepared to spend a high price on your stay. But here's a little secret: you don't have to. Some of the nicest hostels in the country may be found in the Spanish capital!
Most of them will not offer things like free breakfast, but in some, you can enjoy a breakfast buffet for really small prices (as low as €2.5). Other things you can expect are friendly staff, free city maps, luggage storage, and free wifi. Some even have an outdoor terrace! They offer multiple types of rooms: dorm rooms with bunk beds if you are into socializing but want to save money or private rooms.
Below are the 3 best hostels (not the cheapest hostels, but they also have very affordable prices). No matter if you are looking for a laidback, relaxed place or a party hostel, there will be a good choice for you.
The Best Hostels in Madrid
Sungate One
Sungate Hostel is conveniently located in the heart of the city, close to both the airport and the main train station. This backpacker hostel is located in the city's heart, in the Centro neighborhood, close to the city's historical sites, main attractions, nightlife, bar crawls, and shopping district.
Their dorms are large, light, and intended specifically for people backpacking Europe. Air conditioning and lockers are provided in each of them. They also have private options, like double rooms and twin rooms.
It's also worth noting that this hostel has no bunk beds (shock!). You may relax or chat with fellow travelers in their huge common space. You can also use their fully equipped kitchen to enjoy some beers while eating tortillas or traditional Spanish tapas.
The Central House Lavapies
The Central House Lavapies is a fresh new hostel located between the central Madrid neighborhoods of Lavapies and La Latina, just a few blocks from El Rastro, Madrid's famed Sunday flea market. Plaza Mayor and San Miguel Market, Puerta del Sol, Reina Sofia Museum, Royal Palace, and Puerta de Toledo are all within walking distance of the hostel.
They provide accommodations that are tailored to you and your travel style, including private rooms for families or couples and big, fully furnished shared dormitories (female, male, and mixed) for solo travellers or group travellers. If you want a lot of space to sleep, they offer Premium dormitories with bigger mattresses. There are en-suite bathrooms for every room.
Barbieri Sol Hostel
Located in the heart of Madrid's city center (Puerta del Sol). Barbieri Sol Hostel includes a total of 12 rooms, which are divided into double or dormitory rooms with four or six beds. They're all furnished with bunk beds, air conditioning and heating and free private lockers with padlocks.
Plaza Mayor, Prado, Reina Sofia Museum, Retiro Park, and the beautiful neighborhoods of La Latina (with El Rastro on Sundays), are all within walking distance of the hostel.
In all parts of the hostel, there is free Wi-Fi access. Guests will appreciate their lounge space, kitchen with a microwave and refrigerator, TV, and free printer for boarding passes. Don't forget to visit their open-air patio, where you can have some beers and meet new people from all over the planet.
Other hostels in Madrid that are worth checking
These are some good hostels in Madrid that deserve a mention too.
Madrid OK hostel. This colorful hostel is in the lively Barrio La Latina neighborhood. It is a minute's walk from the closest metro station and 7 minutes from the busy Plaza Mayor.
Mola Hostel. This trendy hostel in a neoclassical building is only a minute's walk from both Plaza Mayor and Puerta del Sol. It is also 14 minutes' walk from the Prado Museum.
Newton Hostel. The Tirso de Molina subway station is just a 2-minute walk from this small, eye-catching hostel. It's also a 7-minute walk from the restaurants on Plaza Mayor.
The Match Madrid Boutique Hostel. Near this innovative hostel, there are a lot of nice restaurants and bars.
How Much Money Should I Bring to Madrid?
If you're a backpacker and you plan on spending 3 nights in Madrid, you should expect to pay at least 60 euros a day (and that is in the lower range). Most of your expenses will come from food and accommodation (but you may pay less by staying in some of the best hostels in Madrid already listed above), with some transportation costs and an occasional attraction fee.
If you're on a budget, eating at the tapas bars is a great way to get a full meal without breaking the bank. Anywhere else, you can expect to pay around 10 euros for lunch and 15 for dinner. If you're not a fan of tapas, buying lunch items from the grocery store is another affordable option. Drinks are priced about the same as anywhere else in the world—a beer at a bar could cost anywhere from 2-4 euros depending on the bar, but it's always cheaper to buy alcohol from the grocery store.
---
Enjoyed this article about the best hostels in Madrid? Take a look at these similar pieces we wrote for you:
First, subscribe (for free) to receive my articles directly in your inbox and receive as a special gift the digital book 20 Essential Hacks for Saving Money While Travelling.
Second, if you liked this article, please consider supporting me and other writers by becoming a Medium member. By using this link, you will directly support me with a piece of your fee; there will be no additional cost to you. Thank you a million times if you do!
Levi Borba is the founder of the Expatriate Consultancy, creator of the channel The Expat, and best-selling author. Some of the links in the article may be affiliate links, which means the author receives a commission on any purchases made by readers.