The next stop in our series on European capitals is the birthplace of famous beers and spirit brands. A joyful place! It's time to learn about the best hostels in Dublin (and much more!).
Dublin is the capital of Ireland. It is a bustling city with a rich history and beautiful by itself, with its Georgian architecture and winding streets. Additionally, the city has several parks to explore, including St. Stephen's Green Park, Phoenix Park, and Herbert Park. The diverse climate of Ireland allows for many different types of trees to grow in these parks, including oak, beech, and black poplar trees.
The Irish are known for their friendly nature and they certainly live up to that reputation in Dublin. There are many pubs and restaurants where you can chat with locals or other tourists and make friends. You can also visit one of the many museums or art galleries in Dublin to learn about the culture of Ireland or see works by famous Irish artists like James Joyce, Oscar Wilde, and Samuel Beckett.
In this article, we reveal the 3 best hostels in Dublin, but more than that, we will give you a guide for enjoying the land of Guinness.
What Is Ireland Famous For
Ireland is famous worldwide for its St. Patrick's Day celebrations. There's a reason why the majority of Irish bars around the world are packed to the brim on St Patrick's Day, and it has everything to do with how much the Irish love their beer. And it's not just green beer they love, either—there are a number of other alcoholic drinks that Ireland is famous for, including the Guinness beer and Irish Coffee.
Now, you may be wondering: what exactly is Guinness? The answer: it's an Irish dry stout that was first brewed by Arthur Guinness at his brewery in Dublin, Ireland. It originated from the black porter style that had been popular in London in the early 1700s. Today, it's one of the most popular alcoholic beverages in the world.
When we talk about Ireland being famous for drinking alcohol, we're also talking about Ireland being famous for one particular alcoholic drink: Irish Coffee. This delicious mixture of coffee and whiskey has been a favorite in Ireland for centuries. In fact, there's even a legend about its origin story.
Joe Sheridan, a cook at Foynes Port in Limerick, Ireland, invented Irish Coffee in the winter of 1943. During World War II, Foynes became one of Europe's busiest civilian airports, then an airfield for transatlantic flights that frequently carried politicians and celebrities. The airfield was generally merely a pit stop for longer flights to refuel, but owing to bad weather, passengers would frequently have to remain the night, therefore a new restaurant was built to accommodate these dignified guests.
According to legend, the name came about with the following exchange:
"Hey Buddy," said a surprised American passenger, "Is this Brazilian coffee?" "No," said Joe, "that's Irish Coffee." The hot beverage became a tremendous hit.
How Many Days Do You Need in Dublin
Dublin is one of those cities with a rich history, incredible architecture, and booming nightlife all rolled into one. It's also a city that is easy to navigate and filled with friendly people who are happy to share their culture with others. But how many days do you need in Dublin to see it all? I would say around three days.
While you can see much of the city in one day, three days is about the perfect amount of time to spend in this city. It gives you time to visit top tourist attractions, absorb the culture of the city, and even take a day trip out of Dublin if you so choose. A Three-day itinerary will also give you enough time to experience some of the more relaxed atmosphere that makes Dublin so enticing.
Two of the easiest ways to arrive in Dublin (if your country does not have flights directly to there) are via London Airports, or via the AMS Airport in Amsterdam (a city that also has its own attractions), or by the FRA Airport in Frankfurt, the German financial center that has some of the best hostels in Europe, and from these cities take a low-cost flight.
Things to Do in Dublin (Not only Touristy)
Visit the Irish Emigration Museum
The Irish Emigration Museum is located in the city's docklands district, which has seen many painful goodbyes.
This intriguing museum, which opened in 2016, provides an in-depth — and often poignant — history of Irish emigration across the ages. There are more than 20 thematic galleries to explore in all, covering not just the history of Irish migration but also the impact these vibrant people have made in the regions where they landed.
Stroll at Merrion Square
This is undoubtedly Dublin's biggest Georgian plaza, made mainly of elegant private residences and offices, and it appears in innumerable photographs and postcards of the city. At its heart is a lovely park with a brilliant monument of Oscar Wilde, the most colorful writer, and famed Dublin wit.
A pleasant stroll around the plaza transports you to the Georgian era. Many buildings' top windows are smaller than those further down, as you may have noticed. This was done to give the impression that the houses are higher than they actually are. Local painters line the park's perimeter on weekends and hang their works on the railings.
Visit the Trinity College
The Trinity College is the oldest university in Ireland, having been founded in 1592 by Queen Elizabeth I, and it is located in the heart of the capital, steeped in tremendous history.
Trinity, which sits on a beautiful 40-acre location, has kept part of its historic isolation of cobblestone squares, gardens, and parks, and is known the world over for its collection of outstanding treasures. The Book of Kells, a 9th-century illuminated manuscript, the Books of Durrow and Armagh, and an antique Irish harp are all on permanent display.
Jonathan Swift (well known as the author of Gulliver's Travels), Oscar Wilde, Bram Stoker (author of Dracula), and playwright Samuel Beckett are just a few of the prominent alumni.
Where to Stay in Dublin
While Dublin is not as expensive as London, it is significantly more expensive than other European capitals such as Warsaw or Budapest.
If you wish to stay in a hotel, be prepared to spend a high price on your stay. But here's a little secret: you don't have to. Some of the nicest hostels in the country may be found in the Irish capital! Below are the 3 best hostels in Dublin.
Where to Go After Dublin?
From Dublin, take a few days also to Cork and Galway since it is so close. Edinburgh, in neighboring Scotland, is also not distant by boat or plane. Other not-so-far cities that can be included on your route and are just a low-cost flight ticket always are Venice, in Italy, a place that does not need introductions; Rome, the eternal city; and Madrid, the Spanish capital.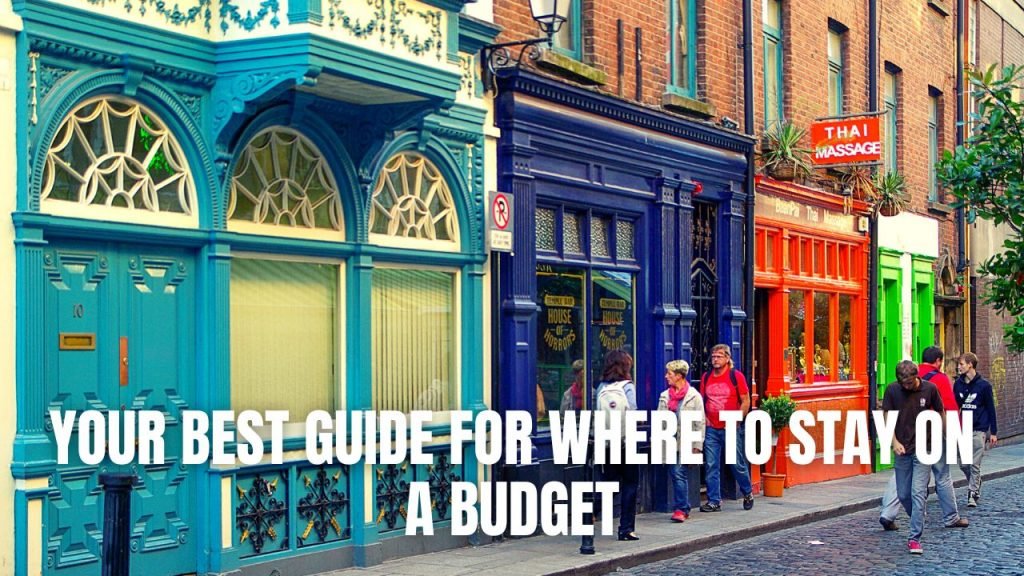 The Best Hostels in Dublin
Jacobs Inn
Jacobs Inn is conveniently located between Connolly Station and Busaras, Dublin's major bus station, making it ideal for travelers traveling to and from Ireland.
It's a trendy, pleasant hostel offering a variety of lodging options for solo travelers, families, and groups of all kinds. Ensuite showers and toilets, as well as a nice bar and restaurant, are available to all of their visitors.
On Hostelworld, they were recently placed among the top ten Irish hostels! This contemporary and clean hostel offers big rooms with PRIVATE bathrooms and excellent amenities.
Abbey Court
Abbey Court, which overlooks the Liffey River, is next to O'Connell St and across the river from Temple Bar, allowing you to walk to most Dublin attractions. The spotless cleanliness of the hostel, as well as the extensive range of amenities on offer, from the movie room and hammock area to the jobs board, spacious kitchen, and games room with pool tables and a Wii, are frequently praised by Hostelworld customers. With a mix of inexpensive pricing, location, and facilities, its consumers also evaluate this hostel as 'excellent value for money.'
The Abbey Court, a member of 'Dublin's Best Hostels,' is known for its great location, fantastic amenities, welcoming atmosphere, helpful staff, and affordable costs. Since its inception in 1999, the hostel has been a huge success, with hundreds of happy visitors returning year after year.
Ashfield Hostel
Between Trinity College and O'Connell St., Ashfield House is located in the heart of Dublin. According to their guests, the hostel's 'great location' makes it a very convenient little place to crash after a night in Temple Bar.' This ideal home away from home features a 'pleasant and helpful staff who 'go out of their way' to assist, as well as free luggage storage, a 'wonderful and satisfying' breakfast, and a kitchen with a 'eat me I'm free' cupboard. People love their regular Dublin walking tours.
Is Belfast or Dublin Better?
Ireland's two major cities are both rich in history, culture, and scenery. They're known for their lively bar scenes and welcoming locals, but of course, they each have their own unique vibe.
Dublin is the largest city in Ireland, with a population of around 545,000 within city limits. Belfast is smaller than Dublin, but still quite large with a population of 300,000 residents. The two cities are about two hours apart by car, so you could visit both on one trip to Ireland. However, if you're looking to choose just one city to visit on your next trip, Dublin is the better option for most travelers. While Belfast has its charm and is certainly worth seeing at least once, it's just not as bustling or beautiful as Dublin.
While both cities offer plenty of activities for visitors to enjoy during their stay, Dublin offers more—and more diverse—options for day trips outside the city itself. If you're interested in seeing some of Ireland's famous castles and other historic sites, you'll have more options if you stay in Dublin due to its proximity to other major cities like Kildare and Galway (which are also easily accessible by public transportation).
---
Enjoyed this article about the best hostels in Dublin? Take a look at these similar pieces we wrote for you:
First, subscribe (for free) to receive my articles directly in your inbox and receive as a special gift the digital book 20 Essential Hacks for Saving Money While Travelling.
Second, if you liked this article, please consider supporting me and other writers by becoming a Medium member. By using this link, you will directly support me with a piece of your fee; there will be no additional cost to you. Thank you a million times if you do!
Levi Borba is the founder of the Expatriate Consultancy, creator of the channel Small Business Hacks and the channel The Expat, and a best-selling author. Some of the links in the article may be affiliate links, which means the author receives a commission on any purchases made by readers.