The next stop in our series on European spots is a city that is also known as Venice of the North, and became famous after a movie with Colin Farrell! It's time to learn about the best hostels in Bruges (and much more!).
Bruges is a city in northwestern Belgium that is full of medieval charm. The center of the city is listed as a UNESCO World Heritage Site and has been called the "Venice of the North" because of its many canals. What makes Bruges so special? There are many reasons to visit, but here are three of the best:
The architecture is stunning. Many buildings in Bruges date back to the Middle Ages and have been preserved since then. One of the most notable pieces of architecture is St. Salvator's Cathedral, which dates back to the XII century. The Cathedral of Our Lady, from the XIII century, is another architectural highlight for visitors, containing even a sculpture made by Michelangelo.
You can take a boat ride through the canals. As mentioned earlier, Bruges has many canals that connect different parts of the city together. Tourists and locals alike will enjoy taking a boat ride down these canals and learning about their history as they go along.
There are plenty of delicious foods to try in Bruges! The city has some incredible culinary selections that every traveler should try at least once while they're there.
In this article, we reveal the 3 best hostels in Bruges and much more than that. We will give you a friendly guide for enjoying one of the most visited cities in Belgium!
How Many Days Do You Need in Bruges
Bruges is a charming and quaint city in Belgium, with beautiful medieval architecture and a host of things to do and see. It's also a favorite among travelers for its picturesque canals and abundant opportunities for indulging in Belgian chocolate, beer, and waffles.
But it's possible to underestimate how much time you need there—in fact, if you want to see the city with any sense of calm (and not feel like you're racing from one place to another trying to fit everything in), you should plan on reserving at least two full days there.
There are many reasons for this: For one thing, Bruges is larger than it seems at first glance. With all its winding streets and hidden gems, it takes a bit of time to discover all that the city has to offer. Additionally, Bruges is great for leisurely activities such as exploring museums or taking a canal tour—activities that don't feel rushed, but rather benefit from being done at your own pace. And finally, while the train ride from Brussels (check here the best hostels from there) is only an hour-long, you'll also have to factor in travel time to get you there and back. But if you are in the mood to visit a larger, more buzzing city, check out our Backpacker's Guide to Edinburgh, in Scotland.
Two of the easiest ways to arrive in Bruges (if your country does not have flights directly to there) are via AMS Airport in Amsterdam (a city that also has its own attractions) or the FRA Airport in Frankfurt, the German financial center that has some of the best hostels in Europe, and from these cities take a low-cost flight.
What to Do in Bruges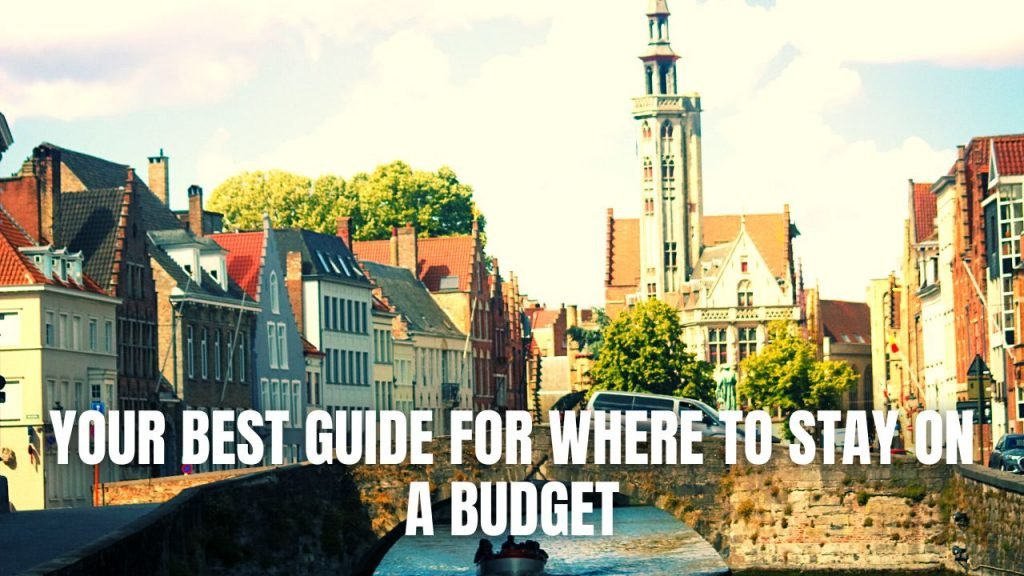 Admire the sacral art of the Church of Our Lady
The Church of Our Lady has the highest tower in Belgium, standing at 112 meters. The nave and aisles were completed around 1230, with the farthest aisles and chapels built in the 14th and 15th centuries.
The chapel is home to a plethora of art masterpieces, including Michelangelo's magnificent Virgin and Child sculpture (1503-04). The sculpture is located on the chapel's altar at the end of the south aisle.
Bernaert van Orley painted the Calvary on the high altar, Pieter Pourbus painted the Adoration of the Shepherds triptych, and Gerard David painted the Transfiguration of Christ.
Enjoy a boat cruise through the canals
The wisest choice to do in Bruges for a pleasant sightseeing experience is to board one of the tourist cruise boats. The boat excursion path travels between the Beginjhof (Beguinage) and Jan van Eyck Square in the center of Bruges, with magnificent views of the canal-side buildings along the way. It is a mix between Venice and Amsterdam.
Tickets cannot be purchased in advance; instead, simply show up at the jetty and purchase your ticket there. It's worth noting that the boat tours are highly popular throughout the summer. Plan to board the first cruise of the day, when there are fewer day-trippers.
Between March and mid-November, boat cruises run every half hour between 10 a.m. and 6 p.m. If you're visiting in the dead of winter, anticipate significantly fewer journeys. The boats are open-air, but guests are provided with umbrellas when it rains.
Visit the Basilica of the Holy Blood
The Basilica of the Holy Blood is at the city's principal plaza, also known as Burg square.
Dietrich of Alsace, returning from the Second Crusade in 1149, is said to have brought a drop of Christ's blood back to the church in a crystal vial, which is said to contain a drop of Christ's blood. Every year in May, during the Procession of the Holy Blood, this relic is carried through the streets of Bruges.
The basilica is divided into two chapels: a Romanesque lower chapel and a late Gothic upper chapel, which holds the remains of St. Basil, which were brought from Palestine by Robert II, Count of Flanders.
The top chapel (constructed in 1480) is reached through a beautiful spiral staircase, where the vial holding the Holy Blood is carried out and exhibited to the devout every Friday.
After visiting all that, you may continue your journey by heading, for example, to Spain. If this is the case, you should read our Madrid guide.
What Is the Best Time to Visit Bruges
You can visit Bruges all year round, but the best seasons to visit are between late March and early November. During these months, the weather is sunny and warm, so you can make the most of your time in Bruges. Winter is cold and rainy in Bruges and there are fewer outdoor activities.
During the summer, there are times when it is more crowded than others. For example, July and August are peak season for tourists in Europe, so expect higher prices on accommodation and attractions.
From Bruges, take a few days also to visit Brussels, since it is so close. Other not-so-far cities that can be included on your route are Venice, in Italy, a place that does not need introductions; also in Italy you should visit Rome, the eternal city; or you can take a low-cost flight and visit Budapest, the Hungarian capital.
Should I Stay in Ghent or Bruges
Bruges and Ghent are both great cities to visit in Belgium, but if you have time to see only one, make it Bruges. Here's why:
As one of the country's most popular tourist destination, Bruges offers more options in terms of historical landmarks and cultural attractions.
In Bruges, you don't need to worry about whether you will be able to find a suitable place to stay or whether there will be English-speaking restaurant staff
The historic city center of Bruges is completely car-free. This means that no one can drive through or park inside the city walls, giving you a true feeling of walking back in time.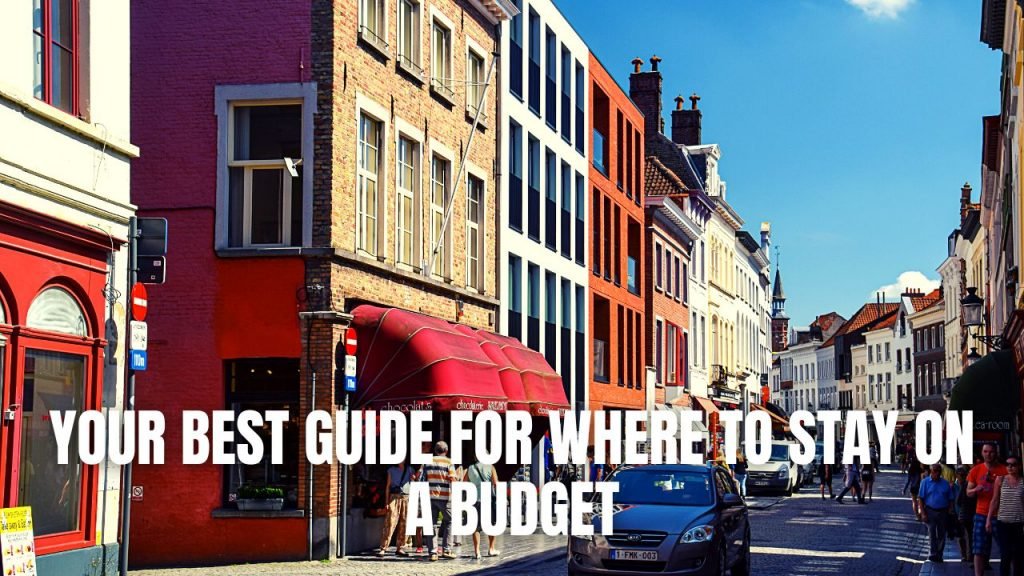 The Best Hostels in Bruges
St Christopher's Inn – Bauhaus Hostel
St. Christopher's Inn – The Bauhaus, located in a complex of six UNESCO World Heritage-listed buildings and surrounded by the Bruges historical center, has the finest party atmosphere and beer variety of any Bruges hostel. Stop in and enjoy one of their 50+ high-quality Belgian beers, and speak with their friendly multinational staff for restaurant and sightseeing ideas!
In dorm rooms with 10 and 16 beds, amazing pod beds are now accessible. Individual power outlets, reading lamps, and curtains are included in each pod bed for further privacy! They also feature a variety of private rooms and dorm sizes to meet the needs of all guests.
Every morning, for just €5 a day, a continental breakfast is offered in the bar.
HI Europa Brugge
The hostel is in a great location for visiting the old town's cobblestone streets and stunningly lovely architecture. There is a free breakfast buffet.
There is also a living area, a cozy bar, a TV room, gardens, and a playground. WIFI-Hotspot. You may connect your own laptop or use the internet kiosk in the hostel's lounge, which features wireless high-speed Internet access. Meet other travelers in the lounge or on the balcony on a beautiful day. Please note that guests above the age of 30 are charged a 10% extra fee (weird… but house rules).
Lybeer Travellers' Hostel
They take pleasure in being the friendliest hostel in town, and they will go out of their way to ensure that your stay is not just great but also unforgettable.
The hostel is located in the city's historic center, halfway between the railway station and the main market square and belfry tower (10-minute walk).
What can you expect to come across? A Belgian beer bar, for example, loaded with gold medalists and varied to the point that when they hear "I don't like beer," their reaction is generally "You haven't discovered your beer yet."
---
Enjoyed this article about the best hostels in Bruges? Take a look at these similar pieces we wrote for you:
What is Edinburgh Famous For (and Where to Stay!)
First, subscribe (for free) to receive my articles directly in your inbox and receive as a special gift the digital book 20 Essential Hacks for Saving Money While Travelling.
Second, if you liked this article, please consider supporting me and other writers by becoming a Medium member. By using this link, you will directly support me with a piece of your fee; there will be no additional cost to you. Thank you a million times if you do!
Levi Borba is the founder of the Expatriate Consultancy, creator of the channel The Expat, and best-selling author. Some of the links in the article may be affiliate links, which means the author receives a commission on any purchases made by readers.