The next stop in our series on European spots is a city that was one of the main ports of the Venetian republic, and starred in multiple movies! It's time to learn about the best hostels in Dubrovnik (and much more!).
If you're thinking about visiting Dubrovnik, you'll want to know why visitors love it.
To begin with, Dubrovnik is regarded as one of the world's most beautiful cities. The old town of the city was recognized as a UNESCO World Heritage Site and a cultural monument by the Committee for the Protection of Cultural Monuments of Yugoslavia in 1979 due to its unique history.
Every year, nearly two million people flock to this ancient and magnificent city on the Adriatic Sea to marvel at its splendor. It is famous for its architecture, which has been molded by over 1,000 years of history and has been characterized by UNESCO as "a patchwork of outstanding medieval monuments."
In this article, we reveal the 3 best hostels in Dubrovnik, but more than that, we will give you a guide for enjoying the Pearl of the Adriatic
Where Is It?
One of the most amazing cities in Europe, Dubrovnik is located in the south of Croatia, on the shores of the Adriatic Sea. Although it is around the size of an average American suburb, it draws tourists from all over the world each year.
It has a Mediterranean climate with hot, sunny summers and mild winters. The warm season is long and lasts from May to September. It is common to have temperatures around 30 degrees during the daytime during these months.
How Many Days in Dubrovnik?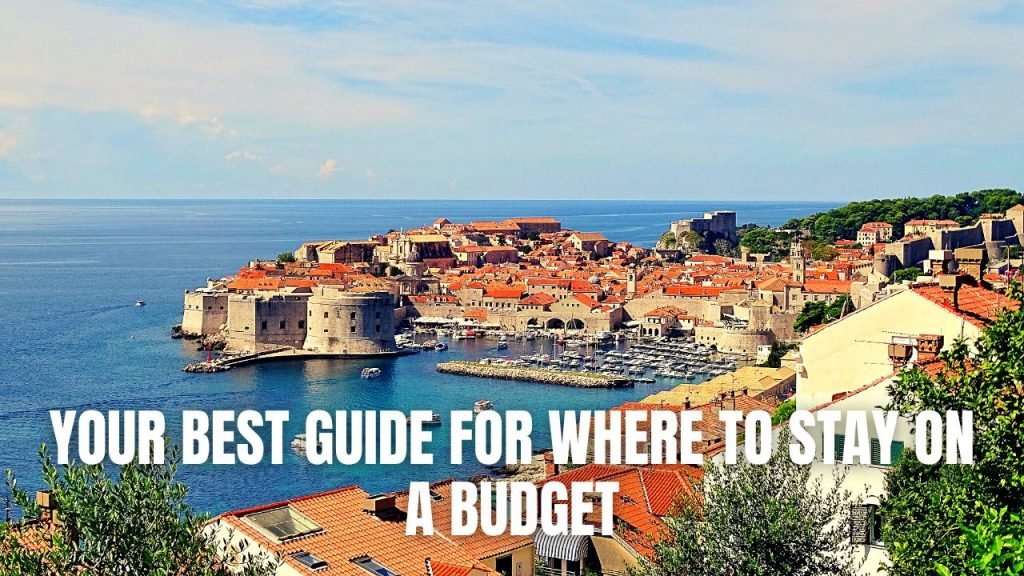 When people ask how many days they should spend in Dubrovnik, the answer should be around three days. Of course, you can see the main attractions in a day if you wish to do so (in the next section, I tell you an itinerary to be done in exactly this amount of time). However, to really enjoy Dubrovnik you will need to take it a bit slower.
If you have time, you should consider spending four or five days in Dubrovnik so that you can visit the nearby islands of Mljet and Korčula, both of which are stunning.
You can easily spend one day on each of these islands. Mljet, for example, is an island near Dubrovnik, unspoiled and beautiful. There are no cars on the island (other than those belonging to the National Park) so it's very peaceful and serene. But if you are in the mood to visit a larger city, check out our Backpacker's Guide to Budapest.
What to See in Dubrovnik in 1 Day
The Old City Walls
Dubrovnik's historic city walls are one of the city's most well-known characteristics, now more than ever owing to its appearance in the blockbuster HBO series Game of Thrones. These powerful walls–as high as six meters in sections and up to six meters thick–were built in the 10th century and renovated in the 13th and 14th centuries to offer a sturdy defense against invaders. Dubrovnik's city walls, which stretch for about two kilometers and give multiple magnificent views over the Adriatic and inwards over the ancient city center, are a terrific site for a casual stroll.
In the height of summer, the city walls climb and fall, making the relatively short two-kilometer walk surprisingly hard and grueling labor. If you intend to complete the full trip, which is highly suggested, begin early in the morning before the heat of the day sets in. You'll also be able to dodge most of the throng. The cost of accessing the walls is unexpectedly high, but it is a good investment.
Dubrovnik Cathedral and Treasury
Beautiful Dubrovnik Cathedral–also known as the Assumption Cathedral–was built in the Baroque style on the site of an ancient cathedral dating from the 6th century that was damaged by earthquakes.
The Cathedral Treasury, with its many precious relics, is a must-see, the most renowned of which is a part of the crucifixion on which Jesus is said to have been crucified. There are also relics of St. Blaise, the city's patron saint, dating from the 13th century, as well as a magnificent exhibition of 138 gold and silver reliquaries from throughout the world, are among the other noteworthy relics.
The Stradun (or Placa)
The beautiful Stradun–also known as Placa–is a gathering spot for locals and visitors alike to watch the world go by day and night. The Stradun, perhaps one of Europe's most beautiful pedestrian thoroughfares, is lined with cafés and restaurants and is a fantastic place to go shopping or rest weary feet after a day of sightseeing in Dubrovnik. The street, which is 300 meters long and known for its white limestone pavement, dates back to 1468.
Loggia Square
Dubrovnik's Loggia Square has long been a popular gathering spot for locals and visitors alike. This historic market square, located in the northeast corner of the old city center, is home to some of Dubrovnik's most notable structures and public landmarks. Orlando's Column, erected and sculpted by sculptor Antonio Ragusino, and the famed Loggia of the Bells, dated from 1480 and utilized as an early warning system by locals during times of unrest, are two of the highlights. The Church of St. Blaise, with its Baroque façade and precious collection of works of art, is also located here.
Where to Stay In Dubrovnik
While Dubrovnik is not as expensive as large western European cities like London, it can be expensive during the summer when tourists from all over the continent disembark in the city.
If you wish to stay in a hotel, be prepared to spend a higher price on your stay. But here's a little secret: you don't have to. Some of the nicest hostels in Croatia may be found in their summer capital! Below are the 3 best hostels in Dubrovnik.
The Best Hostels in Dubrovnik
Hostel Lina
A family-run hostel in a residential area. The staff is really kind and helpful. The proprietors of this establishment are kind, friendly, and really helpful. It's easy to interact here, there's a nice kitchen, and the rooms are quiet after 11 p.m.
The room is freshly decorated and tidy. The bed is really comfortable, and the bathroom is in excellent shape. Although the hostel is not in close proximity to the old city or the beaches, it is nevertheless possible to stroll to these sites.
It's a 25-minute downhill trek to Old Town (and back again), but the position also puts you near the marina, which is worth checking out.
Hostel Angelina – Old Town Dubrovnik
They are excellently positioned within the city walls of Dubrovnik, making you feel as if you are living in a castle). Because the hostel is located seconds from all sights in Dubrovnik's Old Town, you will have limitless chances to enjoy within walking distance while staying here. They feature a nice common area, a fully supplied kitchen, a terrace overlooking the red rooftops of the old town, and, most importantly, comfy mattresses in modest but snug and air-conditioned rooms in a 400-year-old structure. They provide lockers where you may store your belongings (bring your own lock).
Their position is ideal; tourists may take a stroll along Stradun, the city's main street, take a cable car ride for panoramic views of the city, or go on a kayaking excursion around the city walls. Because the hostel is located seconds from all sights in Dubrovnik's old town, you will have limitless chances to enjoy within walking distance while staying here.
Old Town Hostel
They are a boutique hostel in the heart of the UNESCO-protected Old City of Dubrovnik. They are around 15 meters from the Stradun (a major pedestrian street) and only a few steps away from all you require. Their 400-year-old structure has been meticulously refurbished to accommodate 22 guests in seven rooms. There is a huge common area and kitchen where you may relax and meet other tourists.
They provide a lively, clean, and safe environment in which to spend your time in Dubrovnik.
Where to Go After Dubrovnik
After visiting Dubrovnik, there are two cities that make an excellent next stop on your trip.
To the south of Dubrovnik is Kotor, Montenegro, a city with a history just as rich as its neighbor's. You can visit the Cathedral of St Tryphon and the charming Stari Grad (old town).
If you are heading to the north of Dubrovnik, then there is Split, also in Croatia—it's a great choice if you want to go from one city to another by bus or on a road trip. Split is home to Diocletian's Palace, a UNESCO World Heritage Site built in 300 A.D.
---
Enjoyed this article about the best hostels in Dubrovnik? Take a look at these similar pieces we wrote for you:
First, subscribe (for free) to receive my articles directly in your inbox and receive as a special gift the digital book 20 Essential Hacks for Saving Money While Travelling.
Second, if you liked this article, please consider supporting me and other writers by becoming a Medium member. By using this link, you will directly support me with a piece of your fee; there will be no additional cost to you. Thank you a million times if you do!
Levi Borba is the founder of the Expatriate Consultancy, creator of the channel The Expat, and best-selling author. Some of the links in the article may be affiliate links, which means the author receives a commission on any purchases made by readers.